Greenplate's Large Range of BBQ Accessories
Greenplate also manufacture a range of accessories to compliment the energy efficient Greenplate Inbench BBQ. These accessories can be applied to any range of benches Greenplate offer.
Stainless Steel Lift off BBQ Lids; Perfect for applications where BBQ's are exposed to the weather in a private apartment or holiday park scenario. These are also great for covering that dirty cooking plate if your not quite up to cleaning straight after cooking.
Stainless Steel Welded BBQ Lids; Used in situations where the BBQ is exposed to the weather, these lids are welded to the underside of the BBQ plate to ensure its effectiveness in robust environments and public places.
Fat Collection Tray, Baffle Type with Connection & Hose; The Fat Collection trays can be installed in all Greenplate's range of BBQ benches, these are perfect for connecting to a rubble pit ensuring that excess water is diverted out of the fat bins. Greenplate have also designed a stainless steel sliding frame which simply mounts into the bench, this makes removing and emptying the fat bin easier without the need to lift it over the door fold. These Fat Bin Slider Frames can also be supplied separately and can be altered to suit any style of public BBQ bench.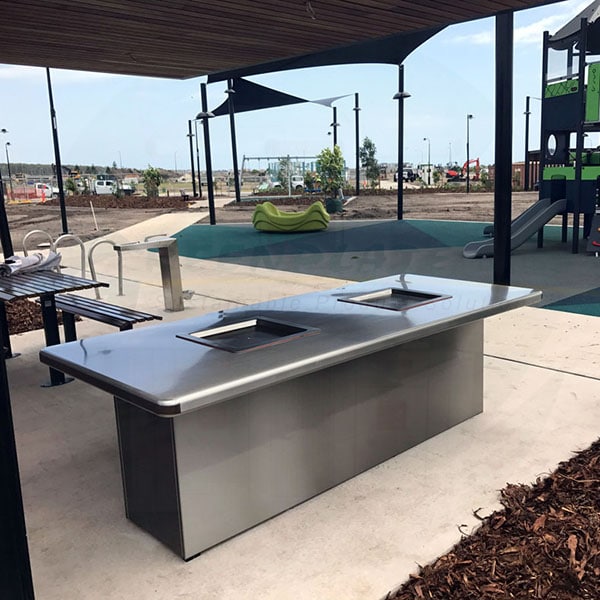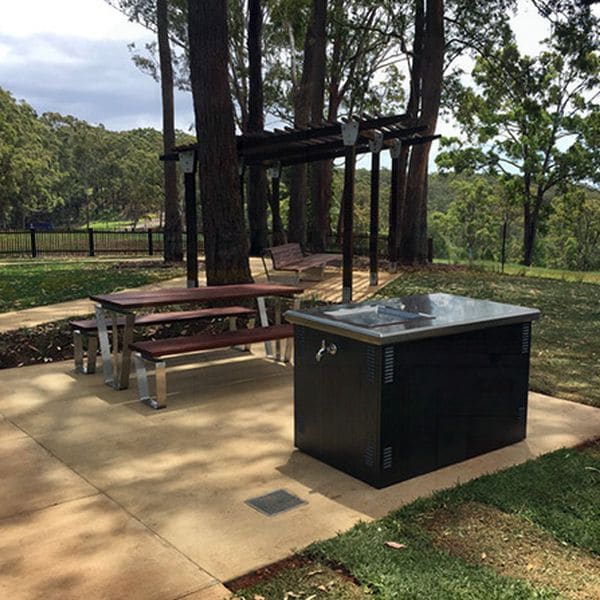 Powder Coating; All Greenplate benches can be powdercoated to a range of different colour options with only the best quality paints sourced. This ensures for an easy to clean and durable finish in the colour the customer desires.
Anti-Graffiti Coating; Greenplate have the ability to apply a nano tech anti graffiti coating to the exterior of the BBQ benches, protecting them from Graffiti and vandalism. The nano tech coating allows for strong paints to be removed with a simple spray with general purpose cleaner and wipe down.
Retrofit Door; Greenplate manufacture an all stainless steel retrofit door, this is perfect for upgrading old and outdated BBQ's with the Energy Efficient Greenplate BBQ without the need for installing an entire new bench. These doors can also be modified to suit customised sizes making sure a cost effective retrofit solution is available in most scenarios.